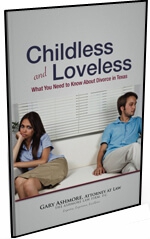 What You Need to Know About Divorce in Texas
This powerful book acts as a useful tool in navigating the complex divorce process.
Not everyone has a "happily ever after."

When you said your vows on your wedding day, you truly meant it. However, somewhere along the way you either grew apart, could no longer get along or an event happened that you just couldn't look past. Whatever has brought you to this place, the fact of the matter is that you need answers.

Some of the topics covered include:
Common misconceptions of divorce

Finding the right lawyer

Filing for divorce in Texas

Splitting assets

Prenuptial agreements
"Divorce is a frightening experience for anyone, whether there are children involved or not. A divorce is a very personal thing and you need to make sure you can trust the attorney you hire and feel comfortable with this person. You need to take the same steps in hiring a divorce lawyer as you would in hiring a family doctor. Sometimes, just deciding who will take the dog cannot be easily settled."
-Gary Ashmore, Attorney at Law